From Kalki Purana Divine Secrets Chapter written by Agastya. In ancient times, in Shiva loka, Lord Shiva informed Parvathi Devi about the importance, graceness, fame & prosperity of the great Kalkipuri Temple established by Kalki, in the birth place written by Agastya, the great sage.
Original Sanskrit palm leaves written by Agastya. Aadi Tamil translation is known as Nadi Palm Leaves and Nadi Astrology. More Details
Aadi Tamil Stanzas with English Prose Translation
Siranthonkum Aalayamum Sevaimelaay (1):18:4.
Melorin Udavikalum Kittiyinbam (1):19:1.
Mechumpadi Amaithithadam Giriyinpakkam (1):19:2.
Sheelamudan Thuvakkangal Niraivumnantraay (1):19:3.
Sirapputhaan Ayaldesha Makkalukkum (1):19:4.
Makkalukkum UnSevai Prabaliyankal (1):20:1.
Mahilnthiduvar UnKarunai Thannalthaane (1):20:2.
Thakkathoru Seedarkalum Anbinodu (1):20:3.
Dharaniyellam Pukalpparavum KalamPinne (1):20:4.
Siranthonkum=in a specially increased rate, Aalayamum=in the great temple (Kalkipuri Temple), Sevaimelaay Melorin=help from those at higher positions, Udavikalum=helps, Kittiyinbam=with acceptance. Mechumpadi=with prosperity, Amaithithadam=in a calm place, Giriyinpakkam=on the hill top, Sheelamudan=divine, Thuvakkangal Niraivumnantraay=will begin in a good manner and get completed, Sirapputhaan=will give blessings, Ayaldesha Makkalukkum=also to the foreign devotees, Makkalukkum=devotees, UnSevai Prabaliyankal=will serve you (Kalki) sincerely. Mahilnthiduvar=with prospering interests, UnKarunai Thannalthaane by Your (of Kalki) blessings, Thakkathoru=with all greatness, Seedarkalum=also to the disciples (devotees), Anbinodu=will be accepted, Dharaniyellam=all around the world, Pukalpparavum=world renowned, KalamPinne=there is the time.
In ancient times, in Shiva loka, Lord Shiva informed about the importance, graceness, fame & prosperity of the great Kalkipuri Temple established by Kalki.
Lord Shiva informed Parvathi Devi now Kalki has a great Temple (Kalkipuri). With the sincere services of devotees at higher positions Kalkipuri Temple will achieve progression. Kalkipuri Temple is situated on a hill top (in the birth place of Kalki) in calm and peaceful atmosphere. The construction of Kalkipuri Temple will be completed beautifully. Devotees from the foreign countries (like those over here) would achieve blessings and serve You (Kalki) sincerely. Devotees from all around the world will get Your (of Kalki) blessings and accept with respect.
Lord Shiva informed Parvathi Devi that there is the time for Kalki and
Kalkipuri Temple to become world renowned.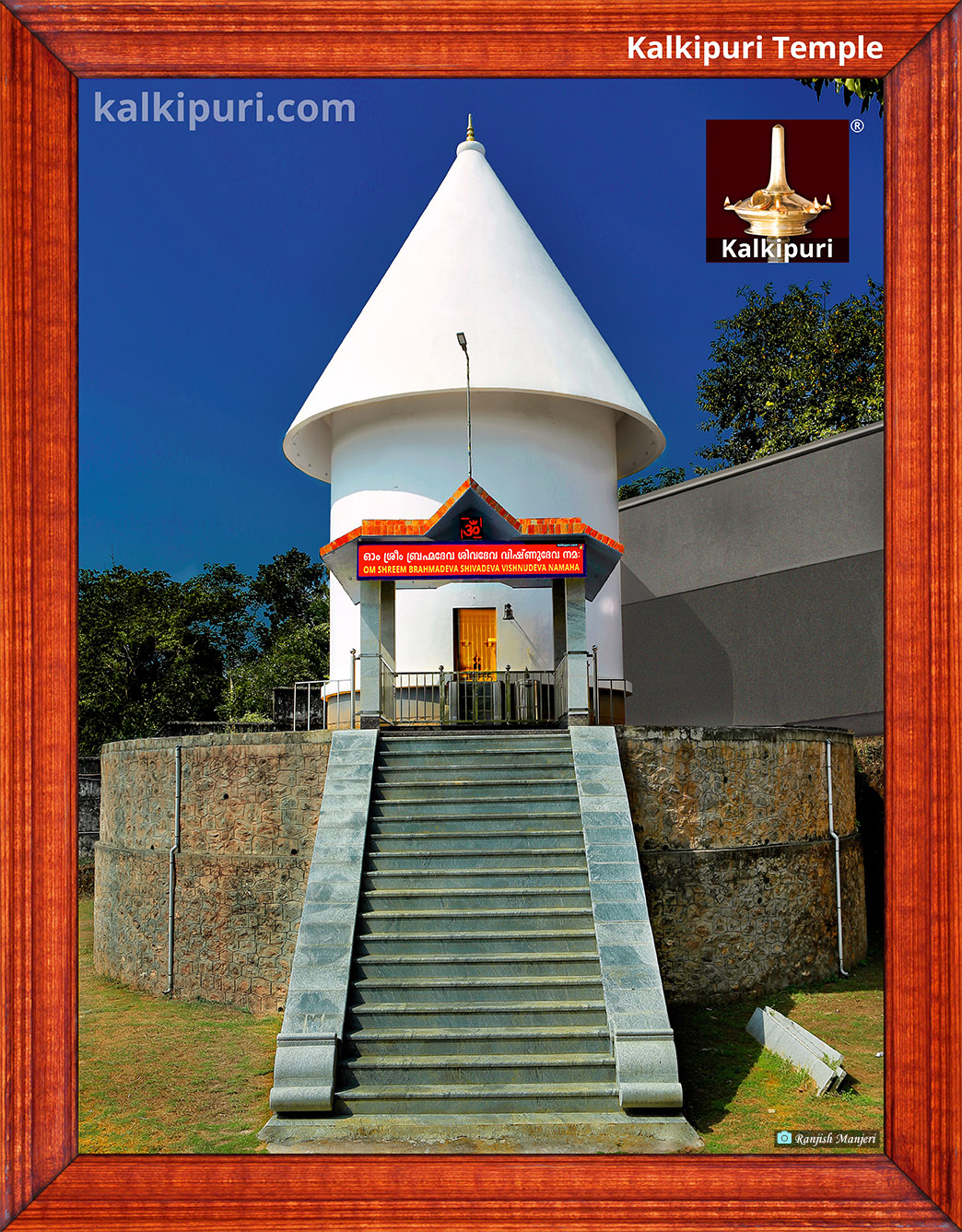 Historical  Evidences
Video of Maha Shiva Nadi Sukshmal Sukshmam Chapter Palm Leaves was recorded on 16th Nov 2004 from the Nadi Office of A. Sivasamy, S/o V.S. Arulsiva Arumugam, Vaitheeswaran Koil, Nagai (Dt), Tamil Nadu, India.
Shaathimatham Kadanthuthaan YehamEntru (1):8:4)
YehamEntru Vilankidume Karunayale (1):9:1.
Shaathimatham=caste and religion, Kadanthuthaan=beyond, Yehamentru=exists in oneness, Yeham Entru=in oneness, Vilankidume=will be self honoured with fame and glistening existence, Karunayale=by blessings.
By Our blessings, Kalki exists in oneness beyond caste and religion. Lord Shiva informed to Parvathi Devi.
READ MORE : Kalki Purana by Agastya & Vishvamitra
About Kalkipuri
Irrespective of caste, religion, sex, age and nativity, devotees can come with cleanliness and pray.
Kalkipuri Temple: Opening: 3am-10pm. Idol : Shiva linga in Krishnashila (black granite/basalt) is installed by Kalki. This Temple is situated in Kalkipuri (with a plot extension of 58.472 cents) owned by Kalki in the birth place. The building permit for dome construction was obtained on 7th March 2013 and renewed it. Dome works started on 5 Feb 2016 and completed on 8 July 2016. Completion plan submitted on 3 Aug 2016 and approved by Vazhakkad Grama Panchayath on 8 Sep 2016. During the process, submitted Structural Stability Certificate by Dr. Shine. C. Chinnan. Ph.D ( https://www.facebook.com/Shine-builders-120711364742644/ ) as per the rules. Insect free bronze oil lamp (Design Patent No.225592) is used in the Temple.
No offerings (Vazhipadukal) in the Temple. Only one Bhandaram (repository/ treasury). No circumambulation (Pradakshinam- walk round a temple). Oil, camphor, ashes, flowers, garland etc. are not received. Pooja is not done for anybody. Donations are not received. DD, MO, Cheque etc. shall not be accepted.
Kalkipuri Temple Dome Works Completed (5 Feb 2016 – 8 July 2016)
Kalkipuri Temple in Aug 2016